Bowmann's Bowen
Bowen Technique Course
Now available on DVD!
---
Simple Techniques with Remarkable Pain Relief

by Victoria Bowmann, Ph.D.
The regular price of the course is
$98
,
however, for a limited time, We are offering
the
Special Introductory
price for this course of:
$62
.
00
USD
Shipping is $8 in the US and $12 international
(Caution international buyers: this DVD is in NTSC format).
We accept Visa or MasterCard.
Please, or call:
Toll FREE: 800-710-2786
to order your course today
while this special offer lasts.
All sales final on this product. See our Refund Policy.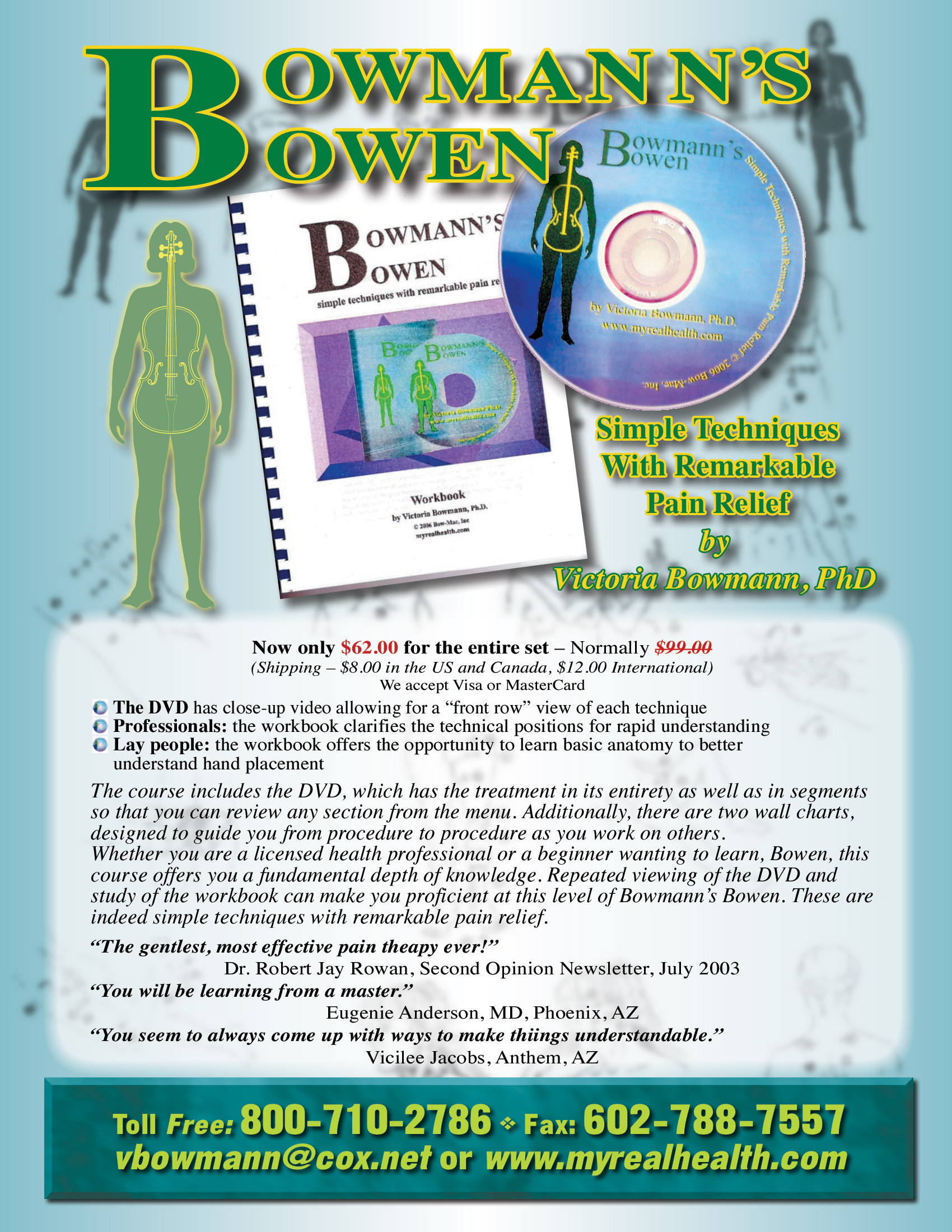 The course includes the DVD, which has the treatment in its entirety as well as in segments so that you can review any section from the menu. The techniques are featured with close up shots for intricate understanding. The workbook is designed to clarify the anatomical specifics for the professional and broaden the knowledge base of the beginner. Additionally, there are two wall charts, designed to guide you from procedure to procedure as you work on others.
Whether you are a licensed health professional or a beginner wanting to learn Bowen, this course offers you a fundamental depth of knowledge. Repeated viewing of the DVD and study of the workbook can make you proficient at this level of Bowmann's Bowen. These are indeed simple techniques with remarkable pain relief.
Look what others are saying...
The Gentlest, Most Effective Pain Therapy Ever!!


- Dr. Robert Jay Rowen, stated in his SECOND OPINION newsletter of July 2003
Dr. Jo Anne Whitaker presented Healing by Balancing the Autonomic Nervous System, ACAM 2002 Spring Conference (tape 27). She heads Bowen Research in Palm Harbor, Florida and has seen improvements in Heart Rate Variability, EEG, and live blood analysis using Bowen-therapy.

- Jo Anne Whitaker, MD
I think you did a great job of making Bowmann's Bowen your own. It has integrity as a system. It looks cool and doable.

He also said:

It was a delight to edit your workbook for Bowmann's Bowen. The information is exacting, direct and practicle. This makes it accessible to the beginners and provides the specificity needed for the health professionals. I'm proud that you are moving forward to offer your extensive knowledge of this method to so many others.

Sincerely,
- Thaine Sprenger, Bowen Practitioner, Coolidge, AZ
You seem to always come up with ways to make things understandable. Your DVD is a great tool for others to learn your method of Bowen's work. I hope others take advantage of what you're offering.
- Vicilee Jacobs, Reiki Practitioner, Colon Hydrotherapist, and Lymphologist
Vicki and I were finishing lunch one day when, out of pity, she said, 'Genie, let me help you with your neck.' She reached over and plucked two places on my neck and said, 'There, you'll feel better soon.' Although I'd known Vicki for two decades as a master body worker who relieves chronic musculoskeletal pain, I thought that she must have been kidding. How could two little plucks make my chronic neck pain feel better? I was gratefully surprised by the relief in pain and ease in motion that occurred from just a tiny bit of the Bowen treatment that Dr. Victoria Bowmann has mastered so well.

In this beautifully demonstrated DVD, you will learn how to help yourself and others with Dr. Bowmann's Bowen therapy. The body has miraculous recuperative abilities, and these easy steps are a way for anyone to begin tapping into their own body's healing power. You will be learning from a master.


- Eugenie Anderson, M.D., Phoenix, AZ
The DVD produced by Victoria Bowmann is an excellent guide to the student of Bowen Therapy. It has clear instructions and good corresponding video images of the movements. In addition, the diagram pages that accompany the video are very helpful. I found Vicki's DVD exceptionally helpful in improving my skills with Bowen Therapy. Thank you Vicki.
- Robert Zieve, M.D., Prescott, AZ
When I first heard about the Bowmann's Bowen training DVD, I immediately placed an order. Although I have completed the traditional Bowen training, I am continually seeking ways to improve and refine my technique. Bowmann's Bowen saved me years of study and experimentation: I was able to benefit from Victoria's experience and understanding of the principles of Bowen Therapy. Thank you, Victoria, for taking the time to put together such a comprehensive learning system to pass on your incredible method of healing.

- Amber Korobkina, Ontario, Canada